Hedge Bet

Featuring Private Investigator Gin Caulfield

Return to Front Page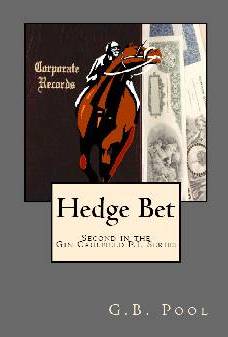 HEDGE BET



She's still packing heat…



Is it a bet on the ponies
or a high stakes gamble in the stock market
that leads to a death at the racetrack
and the return of Ginger Caulfield to her former profession
as private investigator?


Whichever it is, you can bet it will be murder.
Gin Caulfield figured a bullet wound in the back
had ended her career as a private eye,
but when she and her husband stumble across a murder
at the racetrack, all bets are off.


The first victim, Deirdre Delvecchio,
had a loveless marriage of convenience.
In less than twenty-four hours,
Dee's philandering husband, Donald,
has not only convinced Gin to help him prove his innocence,
but he also drops an even larger problem in her lap.


Racine Ingram, a pricy interior designer,
is the problem. She does her best work at night,
alone, in multi-million dollar companies.


Another possible suspect is Phil Lester,
a guy with a temper, who was seen talking with Dee
right before she was killed. And Phil has a few more surprises for Gin.


Gin manages to get copies of Racine's business files
and finds bloody evidence that ties someone to the murders.
Then the prime suspect is killed …and Gin has to start all over again.



Can she still hack it, or is it time to hang up her .38s for good?


Look out guys, Gin Caulfield's back.


"As we walked by the ambulance, I
noticed it was empty. That meant
Deirdre was still in the tunnel. A
dead body is a very sobering thing.
It is so final, so complete, so forever.
And in this case, it was murder."


Look out guys, Gin Caulfield is back.