Second in the Johnny Casino Casebook Series
Looking for Johnny Nobody

Johnny Casino is an ex-mobster
turned private eye.
He changed his name to escape his past,
but what if his past was a lie?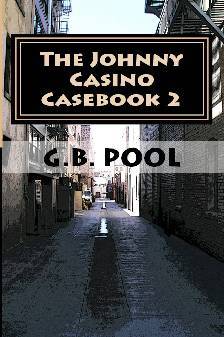 The Johnny Casino Casebook 2: Looking for Johnny Nobody, takes us down a different road. As Johnny goes through these latest cases, he has a strange feeling someone is following him. But when he finds out who it is, everything changes.

"Too Many Suspects" has Johnny working for a gorgeous widow who claims her children are trying to kill her for the inheritance.

"My Brother's Keeper" sends Johnny back to New Jersey when his mobster brother asks for help.

"The Snuff Dreams Are Made Of" has Johnny asking retired actress Iris Sherwood to help him find out if an old movie director might have made a snuff movie.

"Where There's Smoke" introduces Johnny's new secretary, Gladys Street, during the wildfires in California when a man thinks his business partner might have set them for the insurance money.

When a movie star hires Johnny to find out who's been following him, they end up in Marrakech in "Arabian Knights."

Johnny tells Gladys how he got to be a private detective in "Looking for Alexander Hamilton."

In "Many Happy Returns" a woman hires Johnny to find her missing son who was kidnapped forty-five years earlier. Johnny ends up finding himself during his search.



Return to Front Page