Book Reviews





Killer Fashion

Diane Vallere's debut novel, Designer Dirty Laundry, hit the runway recently and is a total trendsetter. Her style alone is worth the read, but there is a terrific plot stitched together with subtle clues that kept this reviewer guessing until the mask was finally stripped away from the real killer at the end.


Vallere's fashion sense makes this book visually appealing as she sets up the story of Samantha Kidd, a fashion buyer working in New York City who moves back to her hometown to find herself. She has been offered a job at the trendiest store in town by one of the top designers in the country. The grand old man of design approached her outside of the store and all of their meetings were slightly sub-rosa, so when she goes to work the first day, nobody is expecting her. And when she sees her new boss's body slumped in the elevator, Samantha and Nick Taylor, a high-ticket shoe designer, are the only witnesses. This fashionista has a quick wit like when she finds herself in the local police station and she comments on how "the morning had left me more vice squad than fashion police." This is a fun gal.

But there is no body and the police start thinking Samantha is just a nut, because she has seen a body that nobody can find, an emergency technician who wasn't there, a laptop that's missing, and has a job nobody can verify was ever offered. Samantha starts thinking, "Nobody had warned me that crimes of fashion were to be a part of my job."

She meets a young guy at work who seems to take an interest in her story. She had actually helped him out back in their high school days and he never forgot, but his help might not be the kind she needs.

The boss does seem to be missing, and it might have something to do with a fashion contest that is going on at the moment to pick the next fashion trendsetter. Both Patrick, the missing boss, and an older design maven, Maries, were set to judge the competition. But when Samantha starts checking into the finalists in the competition, some of the people have more skeletons than clothes in their closets.

Then Patrick's body is discovered in the Dumpster behind the store on the same night Samantha was locked in the store and somebody slips her a note that says they are setting her up for the murder.

Vallere's witty heroine keeps the mood light even if the next thing you read has Samantha Kidd in danger right up to her lace-trimmed neckline. Here's a girl who's fashion sense is her life and it just might mean her death.

A very good read.



Explosive, Visual, Dynamite and Totally Noir
White Heat written by Paul D. Marks explodes on the page.

Days before the verdict is read in the Rodney King Case in Los Angeles back in the 1992, a weasely little man walks into private detective Duke Rogers office and asks him to locate an old friend, Teddie Matson. The guy is white and Teddie is black, and Los Angeles is just about ready to explode due to racial tensions, but Duke isn't thinking about that, just the $250 he'll make on the easy case.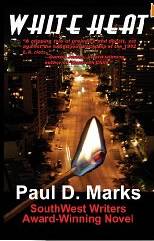 A few days later Teddie Matson is murdered and Duke's guilt meter is through the roof. Turns out Teddie was a well-known TV actress with her own show. This doesn't make checking into her death any easier.

But there are a lot more reasons hunting down her killer is going to be a lot more difficult. First, the verdict is in on the Rodney King Case and Los Angeles is going up in flames. The area hardest hit is right where Teddie's family lives. And Duke, being a white man, isn't wanted in South Central L.A.

Teddie's mother doesn't chew his head off when he makes inquiries, but Teddie's brother has been schooled in hating whitey and he would rather beat Duke up than talk to him.

But there is another guy, Tiny, a friend of the family, who is a little easier to talk to. Tiny gets beaten to a pulp for just talking with Duke. The rules are strict in South Central and you better play by them.

But Duke doesn't play games. He gets Tiny to a hospital and heads back into the pit to find the killer. Along the way he discovers that another young woman was stalked by someone and the pattern sounds awfully familiar. Tracking down this gal and a friend of hers leads him to more places where he isn't wanted, but eventually Duke proves to these people that he is only looking for the truth.

The only truth he doesn't want to share, especially with Teddie's very attractive sister, is the fact Duke knows he led the killer right to Teddie's doorstep. But this journey through cultural minefields teaches Duke a lesson or two.

White Heat is a terrific read, very Noir, but Marks is a master at Noir and this book is no exception. He does some fun things with train of consciousness writing that lets you know what Duke Rogers is thinking at certain key moments in the story.
There was never a dull moment and the journey was well worth the taking.



A Knock-Out Punch

Bernard Deleo's novel, Hard Case, delivers. John Harding takes no prisoners. He's a cage fighter who plays by the rules unless it's necessary to break them along with a few other things. The fast-paced dialogue fits the no holds barred action that pits Harding against terrorists, the Russian Mafia, and guys who just don't like his attitude and his prowess in the ring. This cool story interweaves Harding's personal life with his kick-boxing life as well as a little CIA covert action thrown in. Deleo delivers a terrific knock-out punch and you'll love every minute of it.



Murder at the Cubbyhole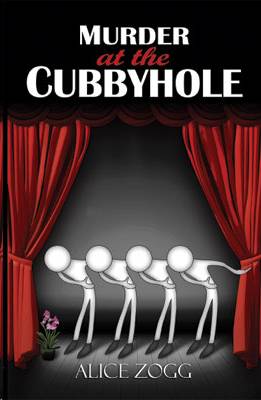 Alice Zogg's eighth venture into the mystery realm is one of her best. Murder at the Cubbyhole invites us into a very Agatha Christie world where suspects are arrayed for our viewing pleasure while private detective R. A. Huber and her trusty assistant, Andi, interview and analyze a group of theatre people who might have had a hand in killing the leading lady at a small community playhouse.


Megan Maguire lost her young life in a violent explosion on opening night and Huber is retained by the grieving parents to discover who did it. But when Huber and Andi start asking questions, they learn that Ms. Maguire had been asking some questions herself and she was getting nervous about something. Who did she know who would want her out of the way?

What makes this story different from previous cases is the parallel plot that runs along side the death of the young actress. A mysterious band of thieves is operating in the Southern California area and their high-end thievery seems to be on a collision course with Huber as she tracks down the killer or killers.

The book cover shows actors bowing on stage. Alice Zogg can take a bow for her latest entry. A fast and fun read.



No Bells by F. M. Meredith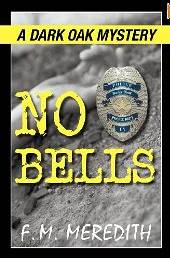 Welcome to Rocky Bluff, one of those small towns where everybody knows everybody until a body is discovered on the beach and all of a sudden nobody knows anything, but everybody is talking.
In F. M. Meredith's latest book, No Bells, the body on the beach is Geri Rowe who happens to be Benay Weiss's best friend. Geri was seeking a divorce from a cold and uncaring husband. Neither wanted to relinquish custody of their two children. It is learned that Geri was having an affair with her boss, but Geri's husband had his share of affairs. One of them was with Benay. But that was over, wasn't it?
A witness said a red-haired woman lured Geri into her car. Benay is the only woman in town with red hair.
The police start asking questions and fingers point to Benay Weiss. The only person who has a doubt is Police Officer Gordon Butler who is in love with Benay. He could lose his job if he gets involved. Do you think that's going to stop him?
But there is a good chance Benay Weiss is the guilt party. Will love blind Gordon to the truth, is there another answer to this crime?
This is one of those terrific small town crimes with lots of subplots and great personalities who inhabit the place. By the time you are finished with the book, you will feel like you spent time in that town and enjoyed every minute of it.
A fun read.





Will the Real Bill Shakespeare Stand Up?
Michael Mallory's latest Amelia Watson mystery, The Stratford Conspiracy, is a mystery within a mystery, and the first one dates back to 1603, during the time of Shakespeare and Queen Elizabeth I. Her Majesty is penning what can only be one of the bard's famous works. Can it be? Can this be the true identity of the great man himself? Do your eyes deceive?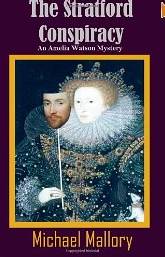 Flash forward three hundred years. Amelia Watson, the second wife of John Watson, the man who penned Sherlock's exploits, is trying to understand why her husband feels it necessary to once again take up residence at 221B Baker Street, Holmes's digs, so he can get over his writer's block. All would be okay if the maid, a cute maid at that, didn't ask to accompany him.

Amelia decides to ignore her suspicions and attend a lecture by a man who says he has proof Shakespeare wasn't the author of all that fabulous work. Intrigued, she goes to the lecture and meets the professor as well as an old and crafty actor friend who has conned his way into the act by posing as a bit of a magician.

All would be okay if the professor didn't meet an untimely death that very evening. But the situation gets worse. The guy who died wasn't the man Amelia had met at the lecture. Before she is waterboarded by the local Scotland Yard inspector, Amelia and her crafty friend, Harry Benbow, head off to Stratford-Upon-Avon on a case seemingly unrelated to the death of the real professor. An old friend has a sister who seems to have lost track of her husband. Amelia is on the case.

But as with all good mysteries, all roads converge and this time it is in the hometown of Shakespeare himself. And what is even better, identities are switched, everybody is suspect as the truth about who really wrote the Shakespeare plays and sonnets takes center stage.

Amelia is brilliant, Harry is a caution, and the conclusion is beautifully tied up. And future adventures of Amelia are assured. You will love what Mallory has in store for the intrepid Mrs. Watson. Play on.

A good read with nice atmosphere, clever plot, and great characters.



A Beautiful History Lesson
Patricia Wynn has created a memorable set of characters in the first of her Blue Satan Series. In The Birth of Blue Satan, nobleman Gideon St. Mars loses his titled father, Lord Hawkhurst, to a killer who also attacks Gideon. Court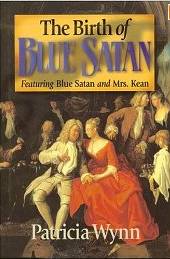 intrigue in England during the rule of George I found lines drawn between the Whigs and Tories. Gideon's father happens to be on the wrong side and revealing this information would ruin his reputation, something Gideon refuses to do, even if he ends up losing everything.

One of the things Gideon loses is his first love, the beautiful Isabella. But Isabella's reputation, and especially her mother's reputation, is not exactly stellar. Her story is a true telling of life among the rich, the near rich, and the want-to-be rich.

The story also introduces the quiet, loyal, attractive Hester, who must live with Isabella's family due to economic circumstances. Hester secretly adores St. Mars, but her lowly class keeps her in the shadows until St. Mars needs someone on the inside to be his eyes and ears. Isabella and her mother are now living at the Hawkhurst estate, so Hester has access to people who might be involved Lord Hawkhurst's murder.

Gideon disguises himself as a highwayman wearing a magnificent blue satin cloak in order to move about the countryside. His trusty servant stays with him as they search for the killer. Gideon discovers the killer, but something stops him from revealing who it is.

This is a great introduction to the series. A very satisfying read.



A Great Read
M.M. Gornell knows how to weave a tale. First, the intriguing setting in the remote Mojave Desert provides enough foreboding to have you turning those pages to find out why Hugh Champion III, a Chicago psychiatrist, moved there in the first place.

But Gornell also crafts very appealing characters who go along on this journey to discover who really killed LoraLee Turner's controversial father. LoraLee is a mysterious backwoods girl with her own share of secrets. But everybody in this tale has something they don't want discovered, including Hugh who is asked to help LoraLee by the family housekeeper, who knows where most of the bodies are buried.

As the story unfolds, more truths are uncovered, even Hugh faces his own demons. Then throw in an FBI agent who is on a quest of his own. When the principles collide, the heat really goes up.

This was a very enjoyable read. A real gem.



Lincoln's Hand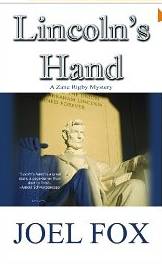 Joel Fox's debut novel, Lincoln's Hand, is a page-turner. FBI agent Zane Rigby is no kid and he knows how Washington works, but it doesn't make it any easier when he fails to capture the notorious Monument Bomber who wants to bring down America by chipping away at our foundation as he systematically blows up famous places around Washington, D.C. and threatens to take out other historic sites. But there is something about this wild goose chase that seems like a set-up.

The FBI Director, not pleased with his failure, shuffles him off to Springfield, Illinois, to check out a mummified hand, said to belong to Lincoln. The problem: this might be only part of the actual body of the great man. A ransom note accompanying the hand says pay up if the body is to be returned. Rigby is to check out the tomb to see who, if anybody, is buried in Lincoln's grave.

Thus starts the rather interesting journey with a little history tossed in and a lot of twists as Rigby tracks down the truth. Along the way he meets an old flame right in the thick of the intrigue. Will the passion rekindle or is the lady hiding a secret? A young woman is killed near the tomb and Rigby discovers lots of local people are hiding old and new secrets that could get more people killed before they find out who is buried in Lincoln's tomb.

But lurking in the background is the Monument Bomber who still has a card or two to play. This is the first in the series, so the Bomber has lots of places to threaten as Zane Rigby tracks him down. A great first novel. Looking forward to the next in the series.



A Deliciously Fun Read

Jacqueline Vick is known for her sarcastic wit and rapid-fire delivery, especially from the mouths of her hilarious characters. Pekingese Premonition is no exception. You are introduced to Frankie Chandler, a reluctant Pet Psychic, almost like getting hit by a bus. The story takes off and you don't want the trip to end. Fortunately, Vick will have more of these stories for readers to savor.

In this outing, Frankie Chandler gets a mental image of what she assumes is a pending crime from the intended victim's dog, and Frankie can't shake it. She has been basically fooling people for years about her ability to connect with animals…for a fee, but it was mostly a carnival trick. Now the visions are literally knocking her off her feet.

As Frankie digs deeper into the backgrounds of those closest to the potential victim, something is uncovered that changes everything.

A fast and furious fun read.

Find the book on Amazon.



Dancing with the Stars
Great atmosphere shares center stage with a cast of memorable characters whose lives are intertwined in this fascinating tale of the dark side of old Hollywood.

Tommy Gun Tango, co-written by Bruce Cook and Brant Randall, brings back several characters from Randall's Blood Harvest, an equally entertaining story set against a backdrop of the KKK in Massachusetts. And readers of Cook's first novel will recognize a name that might be a relative of his hero in Philippine Fever, Cook's adventure story set in the steaming back streets of Manila.

Utilizing multiple points of view, one per chapter, each character starts out by explaining where they came from and about the skeletons in their closets. First is Marshal Lawe, an out-of-work constable from a podunk town called Peony Springs in rural Massachusetts. His little town pretty well dried up and blew away, so he headed west to the Golden State.

Along a deserted highway one night, Lawe sideswipes a hitchhiker who ends up completing the journey with him to the land of milk and honey. This is the Depression, 1932, and everything looks better on the other side of the tracks.

The guy Lawe hits is Al Haine, a two-fisted Irishman who uses one fist to fight and the other to gamble. He is good at both. Talk about the luck of the Irish. Al manages to secure a few extra bucks on their journey to the coast. He never mentions the bruised bodies he leaves in his wake.

Once in Hollywood, Lawe gets himself a job in the movies as an extra. His credentials lead him to a security job for one of the big studios. Al tries his luck at the dog track. He does well and soon moves with a faster, more dangerous crowd.

Laced throughout the opening section of the story are tasty little tidbits ripped from the headlines of the newspapers of the day. Stories like the Fatty Arbuckle scandal and the mysterious death of William Desmond Taylor. Each tale shows how the studio heads deal with moral turpitude and the threat to their box office receipts along with their willing accomplices in law enforcement.

Another character who graces the pages is Gladys Alwyn. When the war broke out she left Virginia and turned tricks in New York City before saving up enough money to buy a diner in Peony Springs. She hid her past and became romantically linked with Marshal Lawe, but when the economy turned south, she headed for Los Angeles. She had relatives there. She took with her another, darker, secret that she figured would ruin any further notions about making any permanent plans with Lawe.

Al Haine's tempestuous past was filled with rapid departures, usually when a dead body turned up. His anarchist tendencies finally landed him in America from Ireland where trouble kept finding him. Once in Los Angeles, he sought to improve his lot in life and ended up working at one of the studios as a dancer in a gangster musical. His dancing partner, Gayle, a gorgeous blonde, is a kid with ambition, but this little number plays by different rules.

Gayle wants to get out of the chorus line and into better things. She is a Jean Harlow look-alike who wants to parlay her considerable assets into a sizable career. The young woman (really young, try sixteen) ran away from her hometown, Peony Springs no less, changed her name to a high-toned hyphenated British derivative and, with a doctored birth certificate that places her outside the statutory range, works every angle to get ahead. She meets Al who likes all her angles. They decide to pool their resources and take Hollywood by storm. But they have no idea what kind of storm is brewing.

So everybody is now in Los Angeles, and a particular Hollywood death draws each into a soul-searching nightmare. Tommy Gun Tango is filled with spot-on atmosphere and terrific characters. Any fan of the movies from the 1930s will be instantly transported to an old black and white movie, so bring the popcorn.

A fast and fun read. My only complaint: I wanted it to last longer. The characters are so well drawn, I wanted to see more of them. But the authors left a few doors open, so there just might be more adventures in Hollywoodland.

Published by Capital Crime Press, $14.95.





Noblesse Oblige
Veil of Lies is a fourteenth Century tale told with Chandleresque pacing. Author Jeri Westerson centered her intriguing tale about former knight, Crispin Guest, who earns a meager living as a tracker (think private detective with a dagger). The story is replete with damsels in distress, court intrigue, holy relics, and a man's honor.

The period detail is neither boring nor scholastic, with just enough pictures painted to set the stage for sword fights and dungeons and scurvy knaves. The dialogue is just contemporary enough to give you an occasional laugh, right before you hastily turn the page, because this is a page-turner.

Crispin Guest is hired by a merchant to follow his beautiful, young wife. The wife seems up to no good, then the husband is found murdered in a locked room in the fortress like home of the rich merchant. And the wife isn't a highborn lady. She had been in service in the home before marrying the man.

Then the mystery of the veil comes to light. It's a holy relic that seems to cast a spell over anyone in its presence, forcing them to tell the truth. But sometimes the truth can be a problem. Secrets abound. Truths are revealed. And Crispin Guest confronts his own prejudices.

A great tale, well told. The plot could have taken place in a 1930s Noir movie or in an episode of Magnum P.I. A good story is still a good story. This one just happens to have wonderful atmosphere and situations that only a former knight could experience.

Loved every page.



A Matter of Honor

Author Jeri Westerson has added another sterling chapter to her marvelous tale of 14th Century knight, Crispin Guest, in Serpent in the Thorns. Guest, a former knight who had pledged his loyalty to the one man in England he truly trusted, was accused of treason and stripped of his title, lands, and everything he thinks made him worthy of respect. The only reason he remained alive was because King Richard II thought stripping him of everything and tossing him into the street would be the most satisfying punishment. The young king knew the man better than the man knew himself.

This medieval noir tale finds Guest living in the Shambles, one of the roughest areas of London, working as a tracker. Think: Sam Spade with a dagger and cotehardie instead of a gun and a trench coat.

The case that ensnares him begins when a dull-witted wench pleads for him to help her. She thinks she killed the man lying in her room. The man was shot by an arrow and Guest cannot believe this simple woman had the strength, much less the skill, to kill the man with a well-placed arrow.

The man turns out to be a courier from the French king who is in London delivering a relic purported to have mystic powers. The prize, the Crown of Thorns. Those in its presence seem to have unyielding courage and perhaps immortality, but there is a catch.

As Guest tries to sort out who the killer is, he is in a quandary as to where the relic should go. He hides it, but there are those with evil intent who want it for more sinister reasons.

But while Guest is searching for the killer, eyes start turning toward him, after all, he was a marksman when he was a knight. As more arrows fly, Guest and his trusty sidekick, Jack, a cutpurse or pickpocket by trade, escape the hangman's noose, but for how long?

Just as in any good detective story, there are many suspects, each with a tale to tell, and the real villain comes as a surprise. But what Crispin Guest learns about himself in the end is the most fascinating tale of all. Truly a knight to remember…